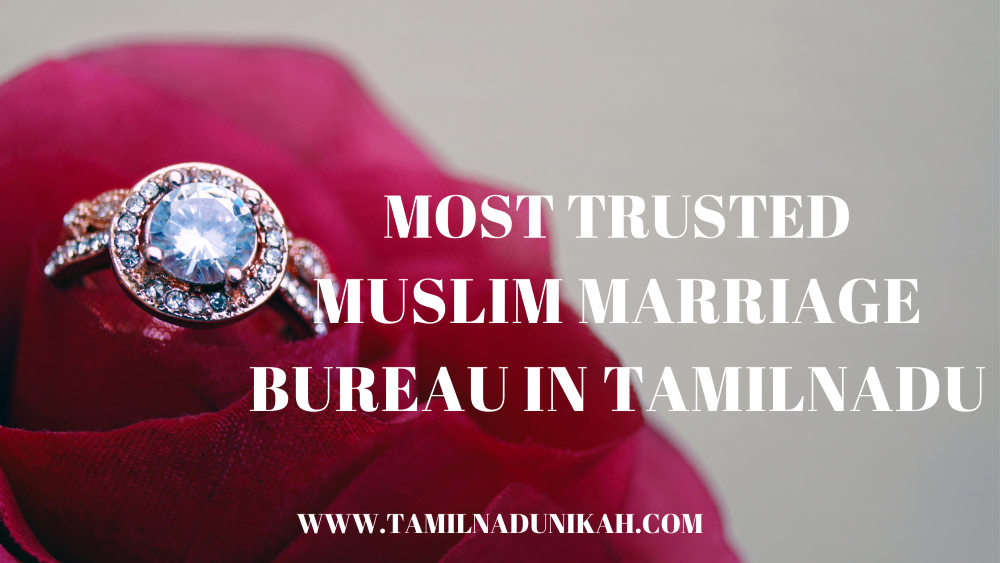 Marriage, one of the most beautiful experiences is a sacred act in Islam. The Holy Quran encourages marriage and emphasizes the rights, deeds, and values that constitute for a happy and successful marriage. Marriage is eternal unity of two souls who had met long before being born into this momentary world and we desire it to be full of peace, love, and joy. If you're in search of your best partner in dheen, join us at TamilnaduNikah, the one stop destination to gratify all your matrimonial needs. TamilnaduNikah believe in providing a secure and convenient match making experiences to all our users and has grown to become the No. 1 online matrimony portal assisting the Muslim community in Tamil Nadu. The high level of affirmation of our services has been strengthened by the ISO 9001:2008 accreditation, which deliver exceptional matrimonial services to Tamil Nadu Muslim community. Our enhanced platform combining updating technology distinguishes us out among the many matrimony sites by enabling secure and reliable matchmaking. We offer an array of advanced search options that are tailored to meet the requirements of customers based on their personal preferences.
               The most trusted Muslim online matrimony portal TamilnaduNikah was launched with the prime goal to cater the matrimonial needs of Muslim boys and girls at marriageable age. We offer an ample database of proposals of Muslim brides and grooms exclusively in Tamil Nadu. Users can easily register with us to start their hunt for the most suitable partner based on their preferences without needing to go to a marriage bureau. Our Islamic-based online marriage platform was hurled incorporating deeper insights acquired on Tamil Nadu matchmaking, such as the individual's and their personal details and preferences. The easy to use interface assisted with the latest cutting-edge matrimony ideas in a user friendly manner aid you to find the best match in no time. Matrimony is a significant milestone in anyone's life and a happy moment that everyone wants to savour to the fullest. Thousands of people register on online matrimony services every day. Only genuine profiles are activated at our matrimonial portal through a manual verification process to safeguard your privacy. Also, we facilitate our users to look for proposals based on location, education, profession, marital status, physical and social status and much more.
               Additionally, if you are a busy professional you can opt for our best assisted matrimony services where you can avail a personalised professional assistant who understands the nuances and assists you throughout the marriage. The assisted matrimony service helps with profile development, quest, proposal communication, and scheduling meetings without the use of any mediators. We at TamilnaduNikah, are an esteemed group of trained matchmaking professionals dedicated to provide the best possible service to our users. You can easily start the search for free with the gadget friendly apps. It's simple, secure and user friendly. Get our TamilnaduNikah app powered by the top notch IT solutions company eBeams Info Tech offering steady match updates, unique privacy features, enhanced visibility, advanced search options, and much more. We wish to provide only perfect and outstanding matchmaking services to the users by broadening our sphere of influence in the field of matrimony matchmaking. So, whether you're looking for a life partner for yourself or someone else in your social circle, TamilnaduNikah would be of great assistance as our motto is to create a happy marriage life for all the users. Register to join for free.